CFC Scaffolding BEE
At CFC Scaffolding & Formwork, we believe that BBBEE (Broad Based Black Economic Empowerment) is more than just a moral initiative. CFC is committed to the economic and social development of South Africa.
We subscribe to the legal, social and moral imperatives of BBBEE by following the provisions of the BBBEE Act 53 of 2003 and the principles embodied in the Codes of Good Practice on BBBEE. It is a proven strategy with far-reaching benefits for the economic growth of our country and its people.
Whereas in the past, BEE could be seen to benefit only a few, the new BBBEE policy has been designed to ensure that the benefits are felt across a broad spectrum of society. CFC is proud to be a part of this transformation.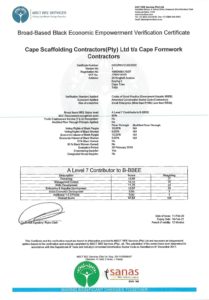 Click here to download